Welcome
Monster Magnets® are the only magnetically enhanced direct mail pieces with easily removable perforated coupons. Our patented "no scissors required" approach has launched us to the top in terms of shelf-life and usefulness, making Monster Magnet's one of the most efficient and effective methods of advertising, period.
The Monster Magnet® was an immediate success for the national pizza chain. Its initial response rates were 38% with and ROI of over 1000% (or 10 times cost). Compared to the standard coupon redemption rate of 1.5%, it was no contest. Monster Magnet® changed the landscape of not only its business, but also the national pizza chain's thinking about marketing.
Today, we remain on the forefront of technology and innovation, as well as, service. Naturally, we still work closely with the national pizza chain, but have expanded our business to other pizza franchises and independent pizza operators, as well as, other categories entirely. From pharmacies to car care, our ad vehicles are perfect for businesses that need to have their information at their customers fingertips.
View Samples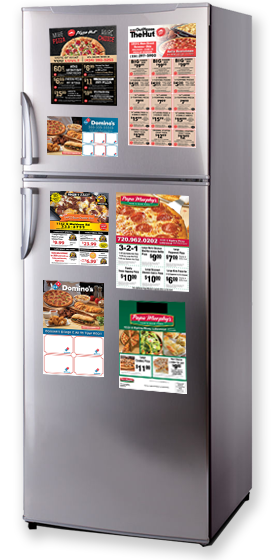 " The Monster Magnet® is one of the best programs we have to offer our stores when a new competitor enters our market."
--An Enthusiastic Pizza Franchisee
"Nothing I've done before seems to impact as well as this product! It's a little bit more expensive, but the redemption far outweighs the added cost."
--Pizza Owner
"I tested 5,000 Monster Magnets® and the results far exceeded anything I've ever done. I'm doing more Monster Magnets® for other markets now."
--Pizza Franchisor
"Crane Productions simplifies the ability to reach your entire delivery area with such fantastic magnet postcards that your results are extremely positive! Great return on investment!"
--Pizza Franchisee
"Crane Productions provides our 20 (famous franchise) Pizza locations with a great looking, good quality magnet card that immediately raises sales and helps to keep them there. Our customers love them – what a great way to keep our customers calling us, than with a Monster Magnet® posted right on their refrigerator!"
--Multi-store franchisee
"Wow! Let me re-phrase: holy smokes! What an amazing impact. No other marketing approach has ever hand anywhere near that impact. For the first time, I wish I'd had extra staff on hand. Overall, the week the magnets came out our sales jumped 25%. Paid for itself in the first 4 days. Needless to say, I'll be doing another magnet."
--Very enthusiastic pizza franchisee
"I would just like to let everyone know how effective the monster magnets are. This week we mailed out the monster magnets to 10k homes in the Edgewood /Swissvale area in Pittsburgh. The best week we ever had there was $8,000 the average was around $7,000. This week with the magnets went out we already have $11,000 in plus Steeler Sunday. It should be around 12-13,000 for the week. Trust me the monster magnets are the best advertising you can do! I do this about three months after we open every new store of mine, results are the same everywhere, plus the sales normally don't go back down."
Pizza Franchisor